Description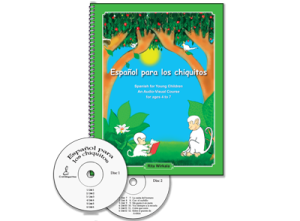 The text has a brief explanation of Spanish conjugation to help parents understand verb usage.
Click here to see Table of Contents
Sample Lesson
SAMPLE (PDF document, 33Kbytes)
Please visit the Audio Page to download a free digital copy of the audio for your product
Espanol para los chiquitos
Spanish for Young Children An Audio-Visual Course for ages 4 to 7 Spanish Pre-School Curriculum Spanish for Home School Textbook
55 pages, full color – 12 Spanish lessons for kids
The Spanish for Young Children text features illustrated words, sentences and expressions common to a child's daily vocabulary. The objective is to teach not only numbers, colors and animals, but to introduce a rich vocabulary in context, including relevant phrases for the target ages. Spanish for Young Children can be used either in the home school setting, with the help of the audio CD, or in the classroom. This method is easily adaptable for multi-level classes in which kindergarteners and first graders learn Spanish alongside older children. The activities based on the text match the corresponding illustration with spoken words, drawings, coloring, and speaking in the form of dialog or questions and answers prompted by the Spanish audio-based lessons. Vocabulary words also appear in printed form next to the drawings for students who can read and as a guide for non-Spanish-speaking parents. Written exercises are also included so children who are ready can start practicing and developing writing skills.